Leading the Motion Simulator industry we are the first to design and implement new innovative ballscrew gearboxes – SFU.
They reduce motor loads and eliminate play in the gearbox providing extremely smooth motions.
It improves the platform in many ways and even increases the motion range by 25-50%. Also with SFU we will be able to offer motion monitor mounts.
For 3 DOFs you need only two for the front motors.
It will make your platform a completely different beast and worth every penny.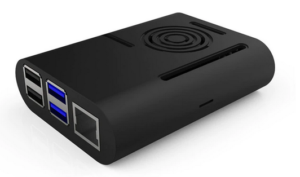 With this MagicBox, you don't need a proxy Windows PC anymore. MagicBox host SimRacingStudio and get motion information directly from the console.  Now you can get motions from the console games and control SRS with your phone or tablet. You need it only if you plan to play only console games and only without a PC. Just plug DOF Reality motion platform to the MagicBox and enjoy console sims.
For more details check MagicBox setup guide
E Break emergency button can be placed on the platform within a close reach to stop any platform motions immediately. It is compatible with any platform model.
To protect you and your customers we also provide flexible moving parts protection cover. This cover fits H2,H3,P2 and P3 platforms.
This option helps 6 DOF systems to lift even more weight. It provides three heavy-duty Lift Supports and a mounting kit. It is needed only for pilots over 300 lbs/ 136 kg or other significant loads.
This option is an portability addition. It provides two heavy duty front side wheels to the platform. One person can lift the the whole assembled platform from the back and the front wheels will touch the floor allowing quick movement, and for loading and unloading the whole platform. It great for frequent relocations in the house or during events. This kit fits H3 and P3 platforms.
This is set of cables from the control box to the motors. Standard cables are 1.2m (4″) long and enough for any common installation. for 2-3 DOF platforms the best place for the control box is under the pedals plate. For 6 DOFs under the seat. This will minimize cables management. The Cables extension set is needed only for the customers who, for some reason, wish to place the control box feather away from the platform.
It's the latest generation shake kit from SRS.
A vibrating "cushion" seat that is fully wired up and ready to plug-and-race/fly.
Inside, it has 6 transducers/bass shakers (FR, FL, RR, RL, CE and SUB) installed in the perfect positions to make you feel vibrations like you are in a real race car / flying vehicle.
The main advantage of 6 channels is that SRS automatically redirects Engine effects to the Center and Sub. Hence, effects such as suspension, traction loss, road bump, ABS and others are much better felt (pure) in the 4 corner channels (FR, FL, RR and RL).
It comes with an exclusive SRS control board that integrates a 6 channel sound card, a 6 channel amplifier (120watts/4ohms per channel) and a pre-amp 3.5mm output to add extra amplifiers and shakers like a Buttkicker 2 or similar.
Our SRS App controls each of the 6 built-in shakers independently. You feel the right effect, with the right intensity, at the right place…Like having individual sensors for each vehicle suspension.
You will feel each curb, road imperfection, turbulence, engine vibration, transmission/gear changes, impact, acceleration, deceleration, g forces, traction loss and more…
SRS U-Shake6 fits any racing / flying / gaming seat due to its size and flexibility.
It's ultra-quiet and will not disturb people in your house or your neighbours.
There is nothing to assemble. Simply place the cushion on top of your seat and connect the ShakeBox to your PC via supplied USB cable.
Dimensions (Seat): 16″ x 35″ (40 cm x 88 cm).
This product includes a license for the SRS App.
he SRS Hurricane Power Wind takes your sim racing experience to a whole new level.
Product Video Showcase & Blog Showcase
Up to 30% more wind speed than SRS "Double-the-fan" kit (includes 3 inch air straighteners)
Hard plastic casing. Not 3D printed.
No Assembly required. Tubing and Air Straighteners are pre-assembled on fan unit.
It includes the following SRS accessories:
– GoPro 360 for the tube tip
– Aluminum profile for the fan base
SRS Hurricane TUBE EDITION
The SRS Power Wind gives you the sensation of driving a real car. You can feel how quick you are going so you can better plan your braking and turning points.
No need to manually configure any settings on your PC. It auto recognizes the car/track max speed and changes the fan rpm accordingly (@ every 1 MPH or KPH, not in intervals).
It comes with all hardware and software ready to plug and play.
The Pro Flight Trainer PUMA X is a single pilot, 8 axes HID USB Helicopter Control Device that provide advanced immersion in a realistic helicopter cockpit and reproduce very realistic controls inputs compared to real operations. Its affordability, size, design and precision perfectly meet requirements for any pilot wanting to expend his skills using simulator software.
The HID Plug&Play USB connection is designed for easy setup, and compatibility to all established flight simulation software; the high resolution on each axes permits very sensitive control inputs, as in real machines.
The Aluminum and steel frame provides high stability and low weight, easy to transport and store. All controls are wheel-bearing based, and have adjustable friction, relieving pressure and stress from the pilot to ensure maximum controllability, and positive stability for training requiring simulated trim functionality.
After flying the Pro Flight Trainer PUMA X for a few minutes, along with a well configured flight simulator, you'll almost forget you're not in a real helicopter.
Based on the well established 4th generation PUMA with lots of new features:
Summarized new features:
PUMA X2 variant available as an option – twin engine/dual twist grip
TBM Toe Brake Modification Kit available as an option
Frame design ready for optional damper modification on Pedals and Collective axis
Sturdy steel and aluminum frame with industrial grade wrinkle texture powder coating for durable protection
all new "limitless choice of angle" system – all controls can be adjusted to ergonomically match your needs – foldable cyclic for easy storage
All new electronics with high resolution and high accuracy hall sensors, developed inhouse – Maintenance friendly and customer accessible sensors for easy repair – 10years++ usage.
All new Collective Box including 2x 4way hats, 2 toggle switches, 2 push-buttons, 3 zone toggle. Inclined collective box and cyclic grip for ergonomically high-fidelity position / 8-way functions on collective hats available as an option in the future. Hats and switches shape are coded for perfect VR Integration
Never leave the controls during VR sessions with 3 zones boosting over 30 assignable functions
Plug & Play driverless USB on Windows, Apple, and Linux.
Fully compatible with all Microsoft Flight Simulator versions, all X-Plane versions, DCS, Aerofly FS2, Arma, VBS, Prepare3D, Flight Gear, Take on Helicopters, etc…
Dampers set to make motions even more smoother . Each damper is adjustable for your preferred level of smoothness. This kit fits all platform except 6 DOF and M series. This kit is NOT needed for platfroms with the new SFU gearboxes. SFU provide way better results. We advise to upgrade to SFU gearboxes.